Overview
A Drilling Spool, also referred to as a Mud Cross, is pressure-containing piece of equipment which is a flanged joint placed between the blowout preventer and casing head or between BOPs that serve as a spacer or crossover. Drilling spool is often used with Blowout Preventers to space pieces of equipment apart. It is fitted with outlets to attach lines extending to Choke and Kill Manifolds. Drilling spools normally have the same nominal top and bottom end connections while side outlets may differ from each other. Top, bottom and side end connections can be studded or flanged.
All of Qihang's drilling spools (Mud Cross) are designed and manufactured in accordance with API Spec 16A standards. Our drilling spools are available in sizes from 1-13/16" to 21-1/4" and working pressure up to 20000PSI. The standard material for drilling spools is high quality integral forged AISI 4130 alloy steel, other material and sizes are also available upon request.
Detailed Specifications:
Product Name: Drilling Spools, Mud Cross
Bore Size: 1-13/16", 2-1/16", 4-1/16", 5-1/8", 7-1/16", 13-5/8", 20-3/4", 21-1/4" or customized
Top & Bottom Connection: API 6A Flange, Studs & Nuts
Side Outlets: API 6A Flanged or Studded
Standards: API Spec 16A, API-6A, NACE MR0175, ISO 9001, ISO14001 etc
Working Pressure: 2000 PSI to 20000 PSI
Material Class: AA, BB, CC DD, EE, FF
Material: AISI 4130 (Integral Forged) 75K, suitable for H2S environment
Temp Class: -46℃-121℃(L-U)
Working Medium: Oil, Natural Gas, Mud etc
Performance Requirement: PR1, PR2
Product Specification Level: PSL1, PSL2, PSL3
Traceability: Qihang's drilling spools (mud cross) are supplied with full traceability documentation for each component.
Application: Connection of Wellhead Assembly, Kill Manifold, Choke Manifold, Blowout Preventer
Paint Color: Red, Blue, or Customized
Origin: Yancheng, China
Image gallery of API Drilling Spools (Mud Cross)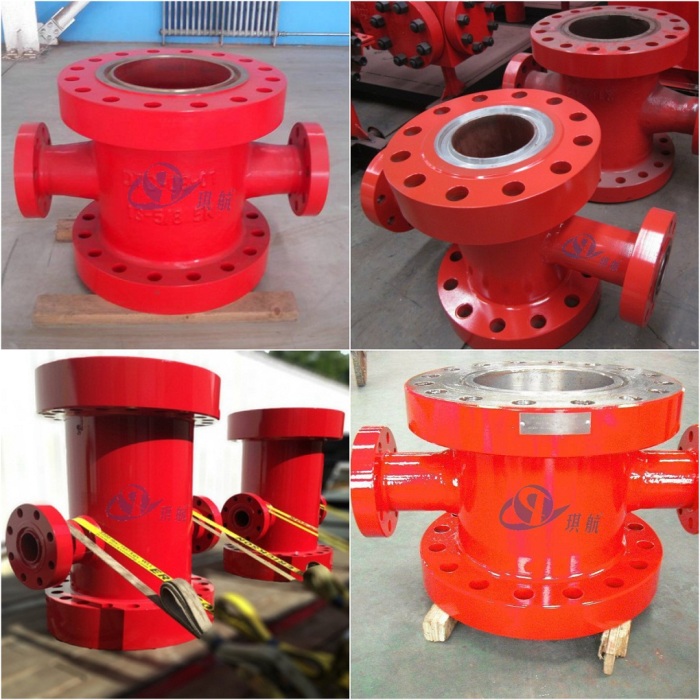 All of Qihang's raw materials and products are subject to strict and comprehensive quality check and testing.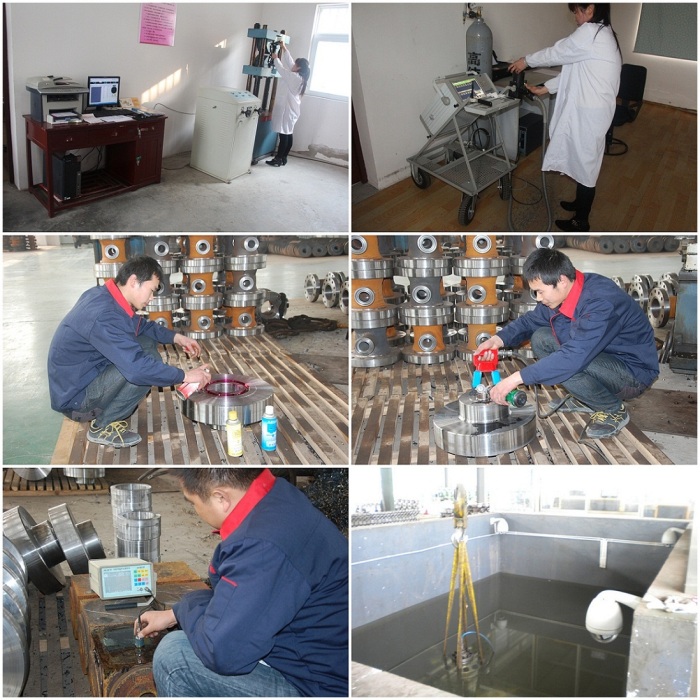 Qihang produces High Quality API Drilling Spools (Mud Cross) at Competitive Prices.

Contact us Today for your specific needs.